Hardware
Hardware for use with the TI-99/4A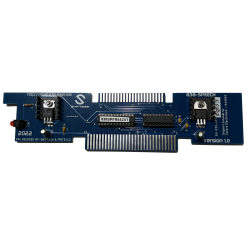 838-PEB PCB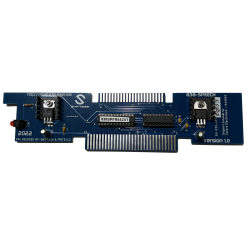 838-Speech Adapter Board (838-Speech Adapter Board v1.0)
Product Description
Introducing the new 838-SPEECH v1 PEB Adapter card for use with the TI-99/4A and Myarc Geneve 9640 computers.

This card allows a user to remove the TI Speech Synthesizer (not included) from the original enclosure and plug it on top of the PEB board to reclaim desk real estate!

Place the card into the PEB (not included) in any slot after it has been powered off for at least 2 minutes.

Your PEB will now talk!

To see a video of the card working then go to my YouTube channel link below:

See Video Here

Please note all items are shipped with insurance.

PDF Manual is HERE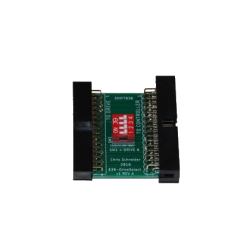 838-Drive Select Board (838-DriveSelect)
The 
838 Drive Select
Board

allows 3.5 floppy drives that do not have a drive select jumper to be easily connected to your compute
r.  No more hacking of ribbon cables to get the appropriate drive number configured.

Simply connect the Drive side to the current 3.5 floppy drive and the other side to your controller via a standard straight through floppy drive ribbon cable (34 pin cable).  Then it is as simple as choosing what drive number to be assigned with the dip switch.

All boards tested before shipping.

Board color may change and component colors may change depending on stock.

****Floppy disk drive NOT included!****
****Floppy disk drive cable NOT included!****
838-PEB PCB - PREORDER (838-PEB V1)
THIS IS A PREORDER ONLY!
Note: This preorder does

NOT

include shipping!  Shipping will be sent in a separate invoice once the item(s) are ready for shipment.  Items will not be shipped until the shipping invoice is paid.  This is done to ensure the most accurate amount of shipping and packaging will be charged based on item(s) purchased.

Ordering options explained in the below linked video!
https://youtu.be/lkkmzmUmzXA

Preorder closes on September 4, 2022 @ 10:00 p.m. CST



Absolutely no refunds will be given once the preorder closes and components and/or PCBs have been ordered.



Components and PCBs will not be ordered until after the pre-order closes.  PCBs and components will take ~3 weeks to be delivered once the orders are submitted.  Expect PCBs and components to be ordered during the 1st week of September 2022.



There will only be one production run of these boards and no more will be produced after the initial run.





This preorder is for a bare PCB unless additional options are added at time of purchase.  See linked video above for explanation of all options.



The 838-PEB board allows a TI or Geneve user to choose their own PC ATX case and ATX power supply (24 pin) to be used based on the user's needs.  In order to keep cost down and to allow the user to customize their unit the buyer must buy their own PC case and ATX power supply this unit does not come with unless added as option.

The case offered will be a ATX Mid-Tower case (not included unless selected as option) with 

2 x USB 2.0/USB3.0/Audio In/Out Front ports
1 x 3.5" external Drive Bays
3 x 5.25" external drive bays
5 x 3.5" internal Drive bays
ATX Power supply mounts at top (not included)
If any of your PEB cards have had the voltage regulators removed and jumpered you will need to ensure you have added them back.  I recommend 1.5 amp voltage regulators as 12v will be delivered to the 5v voltage regulators and be regulated by the voltage regulator down to 5.
The 838-PEB Board comes blank you may choose options for assembly.
This product has been designed around the 838-IO Plus card that replaces the Texas Instruments Flex Cable Interface.  Depending on the case you choose, and purchase will depend on if you can use the existing 838-IO Plus PEB card (if you purchased it).  If not, you will have to purchase the 838-IO Plus ATX version of the card, which is shorter to allow for the existing cables to be snaked through the standard PC IO slot and plug directly into the card.

The 838-PEB does NOT come with disk drives, or any other expansion cards unless otherwise specified and/or chosen at time of order from ordering options.

The 838-PEB board has the below standard features:
8 x Expansion Slots
USB Pass through Power
USB Standby Power
4 x 12v Fan headers
1 x 12v tap
2 each of 3.3v and 5v power taps
Front USB3 connector for power and data use
Connects for Gotek1 and Gotek2 drives for external mods for use with Display and Rotary. USB Data Lines (D and D-) hooked to front USB ports for use with MicroGotek or other USB hardware
RJ45 connected to Gotek1 and Gotek2 rotary and display headers for external hookups
Power Switch and Power LED hookups
connector for use with 838-Latching Relay Module
The 838-Latching Relay Module is required if a user will use the existing momentary power switch that all PC cases are equipped with.  This module allows the momentary switch to act as a latching switch.  Press to power on, press to power off.  If the Latching relay module is not purchased, then the switch will have to be replaced with a latching switch to ensure the ATX power supply stays on.

PEB card connections:
Connections for PEB cards like RS232, FDC, etc are not on the back of the 838-PEB.  Users can opt to use a standard ribbon cable for example..  a RS232 Male to RS232 Female and mount in a PC slot bracket as I have done to port the connection out of the 838-PEB.  

838-PEB Manual:
http://www.shift838.com/downloads/838-PEB_manual.pdf

Videos of the product below:
838-PEB Part 1: Introduction
https://youtu.be/Kap86ksHbUE


838-PEB Part 2: Demonstration
https://youtu.be/xh1Mq1HeC8M
If you want to print your own 3D case for the 838-IO Plus sideport card then there are two that have been designed are in the linked file below:
http://shift838.99er.net/downloads/838IOPCASES.zip
838-PEB PCB